TOPIK, Test of Proficiency in Korean
TOPIK is the only official examination that is globally recognized to assess the ability in the Korean language.
SEOUL Korean language centre offers TOPIK practice tests online and TOPIK preparation classes.
Everything you should know about TOPIK such as the test schedule 2021 is here. The following article will guide you to take the TOPIK 2021 in Singapore.
Why prepare TOPIK Test?
English is not the lingua franca in Korea. Therefore, being fluent in the Korean language is useful for daily life in Korea.
It would not matter if you are planning a short stay in Korea. However, if you are working, studying, or living in Korea for long term, learning the language is essential.
TOPIK is highly recommended for the following purposes.
1. Entrance into Korean Universities as a non-native Korean Speaker
2. Employment in companies and public institutions in both Korea and abroad
3. Obtaining permanent residency or other specific Visa types in Korea
4. Aquisition of a Korean Language Instructor certification as a non-native Korean speaker
5. For use in the 'Korea Immigration and Integration Program' operated by the Ministry of Justice
6. Korean Government Scholarship Program (KGSP) participants taking the Korean language course
Since it was first introduced in 1997, the number of TOPIK takers has been rising rapidly from a mere 3K to 376K in 2019.
TOPIK Schedule 2021
| Asia | Singapore (SKIS) | Test No. |
| --- | --- | --- |
| 11 July | To be Confirmed | 77th |
|  17 Oct | COMFIRMED | 78th |
The TOPIK schedule 2021 in Singapore will be further confirmed by the Singapore Korean International School (SKIS)* which is the only institution to conduct the TOPIK examinations in Singapore. The TOPIK has been held twice a year in Singapore most of the time.
TOPIK preparation takes a lot of time, especially in the writing section. We recommend you to practice beforehand with the  TOPIK Writing Teachers.
Register for TOPIK
*Apply for TOPIK here.
*Application is to be opened by SKIS, not SEOUL Korean.
Taken the examination already?
Check your TOPIK test result here.
Please enquire at SKIS should there be any issues with the application.
TOPIK Test Fees
| Level | Fee |
| --- | --- |
| TOPIK I (Level1-2) | S$100 |
| TOPIK II (Level3-6) | S$120 |
Where to Take TOPIK Test in Singapore
TOPIK tests in Singapore are held at the Singapore Korean International School. You can register online but must be present at the SKIS Bukit Timah campus, 71 Bukit Tinggi Road S(289759) for the test.
Preparing for TOPIK in SEOUL Korean
TOPIK I:  The beginners who have completed the Pre-Intermediate course or above in SKLC.
TOPIK II: The advanced Korean learners. Students completed Upper-Intermediate 0r above in SKLC
Learn More
To prepare for TOPIK, practise our Korean placement test online and past TOPIK papers (available below)
You can check our Korean classes to prepare yourself for TOPIK.
First time trying TOPIK?
Read our Reading Guide and Writing Rules to tackle TOPIK!
TOPIKI Reading Guide
TOPIKII Writing Rules
Test Structure of TOPIK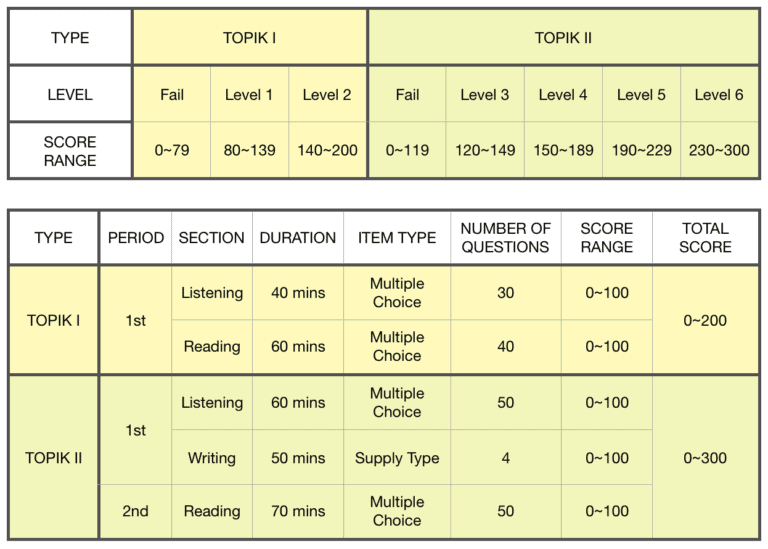 Practice TOPIK Online
TOPIK I Past Papers
TOPIK II Past Papers
If you have any enquiry about TOPIK classes, feel free to contact us. We have Korean language teachers qualified by the relevant Korean authority to guide you through TOPIK.
Our TOPIK Test Achievement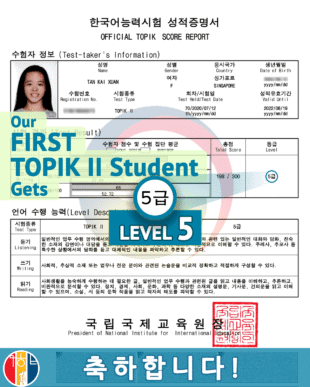 For more details about the TOPIK test Singapore 2021, refer to the official TOPIK website.
---
Read also
About Seoul Korean Language Centre.
Korean language classes for TOPIK preparation
Join our free online trial lesson.
Contact us for more enquiries.
Check our google review.
Return to main page.