Where to learn Korean in Singapore? SEOUL Korean Language Centre will be a friendly platform for you.
SEOUL Korean Language Centre conducts interactive Korean language classes and private lessons in Singapore.
Due to the ongoing COVID-19 outbreak in Singapore, our Kovan centre will be closed until the end of Circuit Breaker.
However, we are still open to enquiries and online lessons. If you are wondering where to learn the Korean language in Singapore, you are in the right place. Feel free to contact SEOUL Korean with the following means below.
Contact SEOUL Korean
Contact details of SEOUL Korean language centre are as follows.
Leave Your Enquiry to SKLC
Fill in the form below to submit your enquiry. If you are enquiring about Korean language classes, please tell us your preferred classes such as group or private Korean lessons and the level you are interested in. We will assist you in a few hours.
Direction to SKLC By MRT or Bus
To visit SEOUL Korean Language Centre, please follow the direction to SKLC below. If you are not sure how to come, contact SKLC.
By MRT
SEOUL Korean LC is located at NE line Kovan MRT.
From Circle Line: Transfer to NE line at Serangoon Interchange
From Downtown Line: Transfer to NE line at Little India Interchange.
By Bus
Take Bus no. 112 or 113 and alight at Bus stop no. 63231.
Or take Bus no. 80, 81, 82, 101, 112, 113, 119, 136, 153 or 107M and alight at Kovan MRT.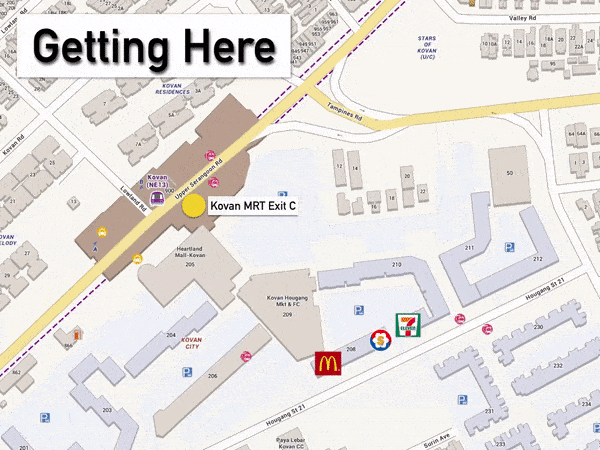 Visit SKLC by car
Search "Seoul Korean Language Centre" on your Google map or Apple map for navigation.
Working Hours of SKLC
Before visiting SKLC, please make an appointment with us. Contact with SKLC will be available after 11 am by call or SMS.
Alternatively, you can leave an enquiry to SKLC through the online form above or an email to SKLC. We will assist you promptly.
Sitemap
Want to have our website at a glance? To look around our website, refer to the below directions to find the content you would like to see.
For other information, please contact SEOUL Korean Language Centre.