Korean Language - Pre-Intermediate
The final course of  basic Korean course for beginners
– Duration : 12 weeks of 1.5 hours lesson/week

– Type: ONLINE via ZOOM Cloud Meeting

– Course Fee: $315 (exclusive of registration and material fee)
– Registration Fee: $20
– TOPIK I Preparation Course
Upcoming Classes
– Every Sat 1:15 pm to 2:45 pm, commencing on 28 Oct 2023
13과: 서울역으로 가 주세요. Please take me to Seoul Station (Intention, direction, request)
14과: 이 옷을 입어 보세요. Try these clothes on (Recommendation, description)
15과: 여행을 가고 싶어요. I want to go on a trip (Proposal, expressing one's will)
16과: 우리 집에 올 수 있어요?  Can you come to my house? (Inability, promise)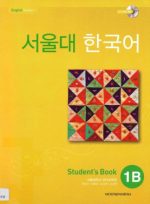 서울대 한국어 1B (Seoul National University 1B)
Student has to buy the SNU 1B Student's Book from an external supplier
SEOUL Korean Pre-inter Worksheet
Should you have not completed the Korean Basic4 course at our centre, you have to verify your suitability for the Pre-Intermediate course by taking Basic4 Level Test.
The result of Basic4 level Test will be assessed by the teacher to determine the suitability of the test-taker to attend Basic4 course.
Please kindly email at help@seoulkorean.sg or contact at 9721-2433 to prompt an evaluation. 
Why is this course online?
Since the COVID-19, it is mandatory to wear masks in an in-person lesson. However, with a mask on, it is impossible to see the mouth of the student. This is detrimental to students who are learning to speak the language for the first time as the teacher would not be able to check on her/his mouth shape when practising the pronunciation.
What's happening in Live ZOOM Class?
You can check the other basic classes here.
We provide the most interactive basic Korean classes and courses in Singapore.