Reserve your seat for Korean Language Trial Lesson
How to start learning the Korean language? Come for the 1-hour free Korean trial lesson to have the first step right!
Though interested, some fear to start learning the language as the Korean letters look strange from the Latin alphabets.
However, in fact, Korean alphabets are easier than you think!
Indeed, within an hour, you will be able to read and write some words in Korean.
In SEOUL Korean, you will learn them in an interactive environment where you will be engaged for 1-hour. Join the free Korean trial lesson to feel how easy and fun the language is! You will learn the 10 Korean alphabets Hangul in 1 hour Korean class.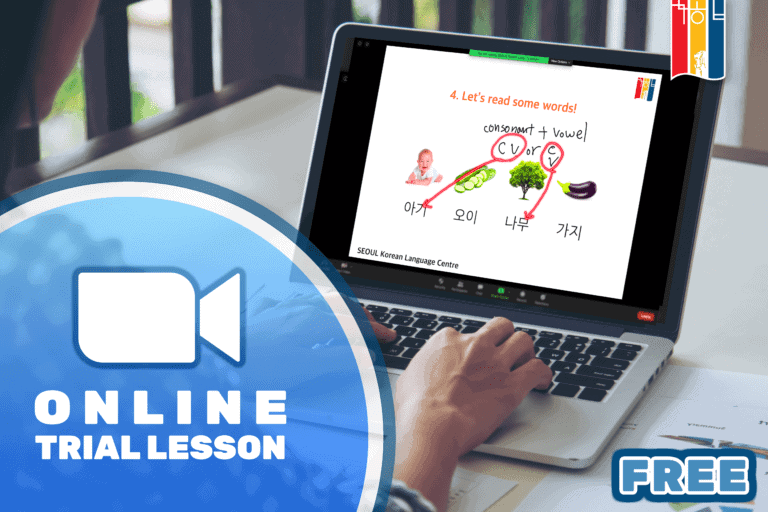 Upcoming Trial Lesson

@ ZOOM

02 Oct 2023 MON 7:00PM


Duration: 1 hour

In this session, you will learn to read and write Hangul, the Korean Alphabet.
The free Korean trial class is for those who have  NOT learnt the Korean language before and wish to start from the Basic 1 Course. If you already know how to read Hangul and are looking for a higher level, please take the placement tests to assess your Korean proficiency. If you are a beginner in the Korean language, this trial lesson will be a good start to learn the Korean alphabet Hangul and begin your journey to the Korean language. Seoul Korean language centre is one of the best Korean language schools in Singapore.
Register Free Trial Class
You required to turn both the video and audio on for identification.
Applicants without a valid Singapore contact number will not be contacted.

Fill in the form to get the link for the sample trial lesson video.
We will contact you within one day after the submission!
Contact us at +65 9721 2433 or help@seoulkorean.sg if your form is not submitted.
What's happening in our Trial Lesson?
Easy and fun

Learn 10 Korean alphabets

1 hour via zoom
Why should I learn Korean?
Enjoy K-pop, K-drama without Subtitles

Travel to Korea

Study or Work in Korea

Easy to Learn