How to use zoom? Due to the COVID 19 outbreak and current status, all Korean classes in our centre will be converted online. Some private lessons are available in person. This is the guide for the zoom online class for students who join our classes.
Be aware of the Zoom online class requirement and checklist to have convenient Korean courses at home. Below is our simple guideline on how to connect to online classes and do's and don'ts with Zoom online classes.
Stay Online. Stay Safe.
ZOOM Online Class Requirement​
QUIET PLACE: 

Find a place 

you can hear and speak without interference.

 

DEVICE: Laptop, PC, tablet, or smartphone with a camera, speaker and built-in mic. In addition, 

ensure your device is connected to the power adapter or the battery power is enough for more than 90 minutes.

INTERNET / WIFI: Cable connected or WIFI with high bandwidth. E

nsure your network is stable and fast. 

(DO not use 4G to prevent high connection fee)

ZOOM App: Download the ZOOM cloud meeting app at zoom.us, Apple App Store, or Play Store.
How To use zoom to connect Online Class​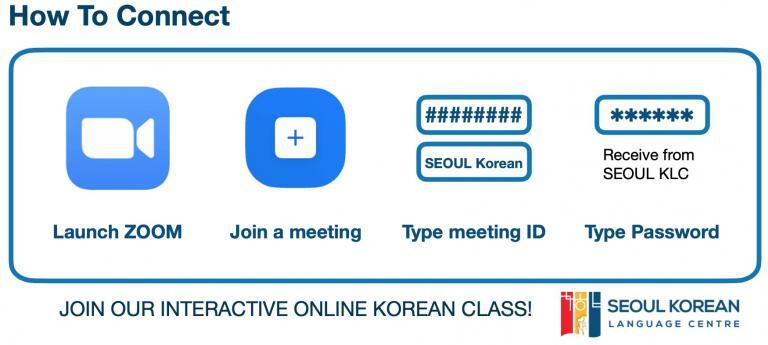 Launch ZOOM app.

Click the "Join a meeting" icon in the zoom app.

Type meeting ID from SEOUL Korean Language Centre. Ensure your display name is the same as your registered name in SKLC for the teacher to recognise you.

Type password from SEOUL Korean Language Centre.

Join the online class after the teacher admits you in. 
ZOOM Online Class Checklist​
Check if you can see the teacher and whiteboard on the Zoom screen.

Say "Hello" to the teacher to check your speaker and mic and adjust the volume.

Check if you can see and hear your teacher and classmates from your device.
Do's and Don'ts In ZOOM Online Class​
Do not share the meeting id and password for security reasons.
Video recording is strictly prohibited for all lessons.
Do not share online materials with others.
You don't have to wear a mask. We are safe online.
Useful resources for Learning Korean language