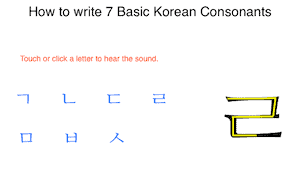 How to write 7 basic Korean consonants
Korean alphabet has 14 consonants and 10 vowels.  7 of the consonants and 6 of the vowels are basic. Additional consonants and vowels are derived from these basic consonants and vowels.
In these days, instead of writing, people type most of the time on their keyboards but it is also important to know how to write the Korean letters by hands, especially if you are planning to take TOPIK II where you have to write essays.
Touch or click on a letter in the following list of letters. 
You will hear the sound of the letter and see the writing order of the letter.
No Display?
Please log in and try again
No Audio?
Check your volume. If it still does not work, please try it on a desktop.
If you want to learn more Korean letters and learn Korean language, join our free trial lesson or contact us for more Korean language classes. Our Korean teachers are selected through a tough assessment.