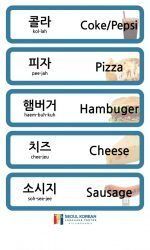 These are Korean vocals about food derived from English. As you have noticed, most of the food here are from the West. Factually speaking, both "스시" and "sushi" originate from Japanese "寿司" but I added them as both still sound similar and hence it is easier for English speakers to memorise.
I would also like to make a little note on "치킨". Koreans usually refer to "치킨" to mean fried chicken but not other chicken meat cooked by other methods.
I hope this is helpful for those who want to gain Korean words as easy as possible.
Want some more learning? Click here to check out more learning materials.