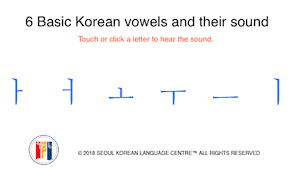 6 Basic Korean vowels and their sounds
Korean alphabet Hangul has 14 consonants and 10 basic vowels.  Among 7 of the consonants and 6 of the vowels are basic. Additional consonants and vowels are derived from these basic consonants and vowels.
Here you can check what the 6 basic vowels are and how to pronounce them.
Touch or click on a letter on the list below.
You will hear the sound of the letter. Please be sure that your volume is on.
No Display?
Please log in and try again.
If you want learn more Korean letters and the Korean language, join our free trial lesson or contact us for Korean language classes. Our Korean teachers are selected through a tough assessment.