The 4th basic Korean course for who learned Korean before.
– Duration : 12 weeks of 1.5 hours lesson/week,
– Type: ONLINE via ZOOM Cloud Meeting
– Course Fee: $310 (exclusive of registration and material fee)
– TOPIK I Preparation Course
Upcoming Classes
– Every Sat 11:20 am to 12:50 pm, commencing on 8 Jan 2022
– Every Wed 8:00 pm to 9:30 pm, commencing on 9 Mar 2022
9과: 이 분은 누구세요? Who is this person? (Honorific)
10과: 지금 몇 시예요? What time is it now? (Time, future tense)
11과: 감기에 걸렸어요. I caught a cold. (Advice, obligation)
12과: 여보세요. Hello (Continuous tense, negation, reasoning)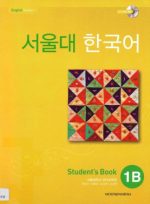 – 서울대 한국어 1B (Seoul National University 1B)
– Seoul Korean Basic 4 Worksheet
Should you have not completed the Korean Basic3 course at our centre, you have to verify your suitability for the Basic4 course by taking Basic3 Level Test.
The result of Basic3 level Test will be assessed by the teacher to determine the suitability of the test-taker to attend Basic4 course.
Please kindly email at help@seoulkorean.sg or contact at 9721-2433 to prompt an evaluation.
Why is this course online?
Since the COVID-19, it is mandatory to wear masks in an in-person lesson.
However, with a mask on, it is impossible to see the mouth of the student.
This is detrimental to students who are learning to speak the language for the first time as the teacher would not be able to check on her/his mouth shape when practising the pronunciation.
What's happening in Live ZOOM Class?
You can check the other basic classes here.
We provide the most interactive basic Korean classes and courses in Singapore.